Personal poker coaching brought to your phone
DTO Poker, our new personal poker coaching app, is the brainchild of the highly successful poker professional Dominik Nitsche and his long-time student Markus Prinz. Together they created a brand new tool to help you effectively study GTO either on your phone or in your web browser.
IT ALL STARTED WITH A PRIVATE POKER COACHING
In September 2018 Markus and Dom were working together to help Markus prepare for his first high roller event. The pair went through Dom's endless collection of simulations and while very effective, found the process rather tedious. They were looking for a more efficient way of study so Dom decided to look at every single hand Markus played for a while and provided immediate feedback with the help of his huge database of solutions.
"Why don't we turn this into an app?
That's the kind of poker coaching everyone wants!"
Markus said.
And that's how DTO Poker – Your Personal Poker Trainer was born.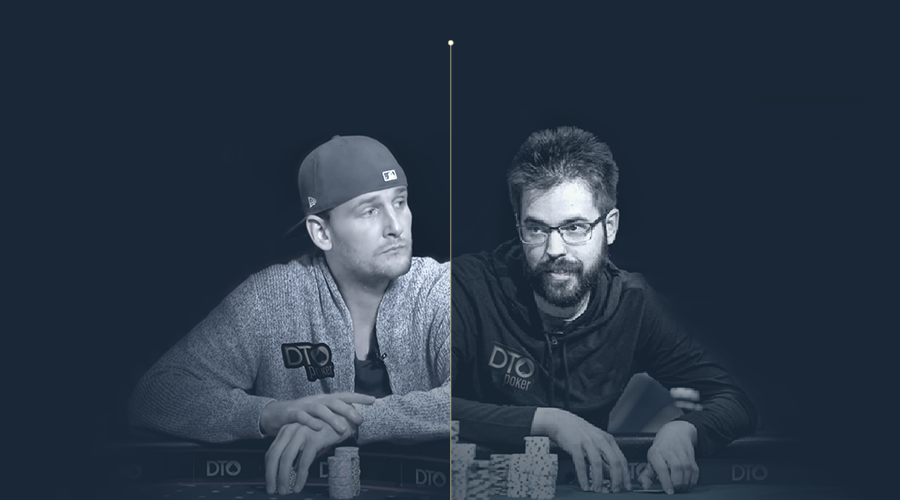 DTO Poker brings the hard work of Dominik Nitsche and Markus Prinz straight to your phone
Known as one of the most technically sound professionals on the Super High Roller tournament circuit, Dominik Nitsche has been a dominant force in the highest stakes for years. His success in poker is fueled by his desire to learn and pushing the limits in poker study. This desire to learn has placed him among poker's elite with over $18,000,000 in live poker winnings, close to $5,000,000 in online poker winnings and a WSOP & WSOPE gold bracelet, which is good for a 32nd place in the all-time money rankings. While continuing to play poker at the highest levels, Dom's passion for teaching hasn't wavered. His approach to study is highly regarded as some of the best in the world and has led him to coaching/mentoring other respected professionals in the game. One of them was Markus.
Markus Prinz, co-founder of DTO Poker has had this first hand experience as one of Dominik's students. Holding a university degree in computer science Markus possesses the technical knowledge to develop a unique app like DTO Poker. A poker coaching app with a strategy framework that is actually followed by the founders themselves can't be found anywhere else. Between Dom's exceptional poker knowledge and Markus' technical understanding, the DTO Poker Team has the perfect combination to build out a revolutionary product.
MARKUS' HARD WORK PAID OFF
His improvements through the coaching of Dom, transformed into results rather quickly as he turned a $5300 buy-in into $624,000 at partypoker's Millions North America & banked $175,000 after taking 6th in the $50,000 Caribbean Poker Party High Roller. His latest big cash Markus landed at the WPT500, where he finished third, which brought him $202,000. As a 20-time weekly Leaderboard winner, perpetual PPL leaderboard leader & with a history of crushing the toughest games on partypoker, Markus has shown his ability to stay on top of his game through study. His rise in poker confidence can be seen as he continues to put up results at the higher stakes on the live circuit. That same confidence shines through in his passion for the DTO Poker App. He has experienced the DTO process first hand is the best review anyone can ask for regarding the efficacy of the product. 
NOW YOU CAN DO IT LIKE MARKUS, BUT FASTER!
The DTO Poker App brings this renowned teaching technique and vast poker knowledge to your fingertips. With the DTO Poker Trainer you might be able to experience similar success as Markus and many others under Dom's poker coaching. Unlike Markus you don't need to use multiple programs. You can do it all with a single, affordable app, the DTO Poker Trainer. It speeds up your learning process immensely and makes it incredibly convenient. Our entire team believes that DTO Poker Trainer provides a completely unique poker study experience and definitely changes your game for the better.
READY TO TRAIN IN A BRAND NEW WAY?